Edwina Castle, owner and artistic director , trained extensively under internationally recognized dancers and teachers. She continued studies at Oregon Ballet Theater, master classes, and Teacher Seminars at Pacific Northwest Ballet. Her career includes dancing with State Ballet of Oregon, Juice Company, and Redlands Festival Ballet. TV appearances include "Two for Ballet" on PBS; the NAIRD award winning home video "The Swan Lake Story" on Disney Channel; and music video "Body Jacking". Edwina's ballet students have been accepted at prestigious schools and summer workshops to include Oregon Ballet Theater, Whitman College and Long Beach Ballet Arts Center. Several received dance scholarships at Oregon Ballet Theater, summer dance intensives, and WOU

Patsy Nippoldt has danced with Gallery Ballet, Portland Community Ballet and Portland Dance Academy (Oregon Festival Ballet). She has performed such roles as the Stepsister/Stepmother in Cinderella, Lilac fairy/Carrobosse in Sleeping Beauty, Sugar Plum Fairy, Snow Queen, Swanhilda in Coppelia, Pas de Quatre, Raymonda Variations, Mama Papa doll in Toyshop and the duck in Peter and the Wolf. Lately, Patsy has spent her time in the costuming, choreography and teaching aspects of the ballet world, primarily with Gallery Ballet. She also enjoys participating in the character roles of the productions. Her favorite dancing/character roll of all time is Carrobosse in Sleeping Beauty. Outside of ballet, she works as a software engineer in Beaverton and lives with her husband in Newberg.

Karley Geneva Jones earned a Master of Music degree (suma cum laude) from Western Oregon University in June 2009. In 2002, Karley entered Western Oregon University on a dance scholarship, after studying ballet, tap and jazz since the age of four. She continues to study dance at WOU. Karley tapped to Good Mornin' from Singing in the Rain and also danced en pointe to Pavlova's Dying Swan in her college senior recital. As a senior in high school, Karley received the "Award of Excellence" from the Chehalem Valley Dance Studio. Throughout her high school years, she studied ballet with Edwina Castle and danced leading roles in Coppelia, Giselle, Swan Lake and La Bayadere. She was awarded the "Assoluta Award" from Edwina Castle's Classical Futures dance company.

Meghan Freeback spent fifteen years as a competitor and performer, traveling the west coast, North America, Ireland and Scotland to compete at the regional, national and world level. As a top 5 podium placer at the regional level and a top 25 placer at the national level, Meghan has competed at the Worlds 4 times both as a soloist and on teams. She is officially certified to instruct both hard and soft shoe and looks forward to training the next generation of dancers.
Jessi Adrian found an interest in dance at an incredibly young age when her older sister took a tap class, soon after Jessi was begging to start classes. Introduced first into Tap and following the next year with Jazz, Jessi's love of dance grew through the years. Continuing into Ballet, Modern, Belly Dance, Hip Hop, African, and more. Her studies lead her through programs at Jefferson High School's Dance Magnet Program and into University of Oregon where she completed a bachelor's degree through the School of Music and Dance in 2009.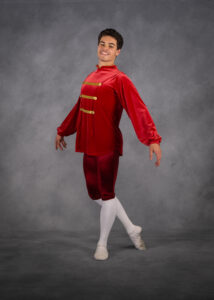 Jacoby Thompson has been training and assisting the boys since 2015 in Boys' Movement. With his extensive background in gymnastics, he is a compelling coach and very supportive of the progress of the boys' training. He is super excited about this leadership opportunity and so are we!