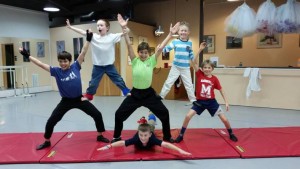 Boys Movement Class on Mondays at 5:00 pm! (6 years and up)

When: Mondays 5:00 – 6:00 pm
Where:  GB&T Studio, 906 NE 11th St, suite B, McMinnville
Ages:  6 years and up
Cost:  $65
 Male Instructor, Jacoby Thompson, and choreographer, Patsy Nippoldt, bring together years of gymnastics and physical fitness training to create a dynamic class focused on tumbling, strengthening, jumping, acting, with an emphasis on theatrical movement, teamwork, fun and friendships.
Jacoby Thompson GB&T Bio:
Jacoby has been training and assisting the boys since 2015 in Boys' Movement. With his extensive background in gymnastics, he is a compelling coach and very supportive of the progress of the boys' training. He is super excited about this leadership opportunity and so are we!
GB&T performances: Harlequin in 2015-21 Nutcracker, the Wolf in 2016 Sleeping Beauty's "Little Red Riding Hood", Inigo in 2017 Paquita, Grand pas de Deux in 2018 Nutcracker, Fire Dancer and Warrior Duet in 2018 La Bayadere, Hilarion in 2019 Giselle, Abderakhman in 2019 Raymonda, Jean de Brien in 2020 Raymonda Showcase, Prince Siegfried in 2022 Swan Lake, Russian in 2015-2022 Nutcracker