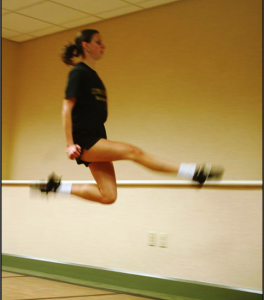 Irish Step Dancing developed from traditional Irish dancing.  It can be performed solo or by troupes. Dancers stiffen their upper bodies while performing quick intricate footwork.  Two types of shoes are worn;
Hard shoes, which create sounds similar to tap shoes and soft shoes similar to ballet slippers.  Younger, beginner dancers usually start out with the soft shoe.
What to wear to Irish Class
Female Irish students wear a black leotard, black tights, black chiffon skirt, and black ballet shoes. Hair must be in a bun or ponytail. Short hair must be secured with a headband. Fitted solid colored t-shirts and black leggings are acceptable as warmups. Male Irish students wear black dance pants, a white shirt and black ballet slippers. Black sweats are appropriate if they aren't too long.