Galle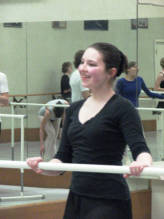 ry Ballet-Learning to dance gives you the greatest freedom of all. The benefits of dance training are carried throughout life. It builds strength, character, self-discipline, confidence, balance, flexibility and grace. Our Staff nurtures the very best a student is capable of whether a career in dance is planned or not. In return, Our Staff will give positive attention and the encouragement each student deserves.
Students are trained in Vaganova and Advance Cecchetti Technique with inspirations from Bournonville, Royal Ballet Academy, Pacific Northwest Ballet, and Balanchine Technique. Edwina Castle believes that Gallery Ballet students create their dreams and build goals by learning to master themselves, their expression, and working as a team. In the studio, a fun attitude towards personal excellence creates a nurturing environment to foster determination, hard work, and growth. On the stage, dancers to develop as performers and leaders. Edwina Castle has personally trained with internationally recognized ballet stars and realizes that opportunities for growth are also positive aspects of training. Edwina continues to pursue international training to meet the growing demands of the ever expanding geography of ballet and dance.
Gallery Tap-
The enjoyment of tap comes from being able to "talk with your feet" – creating a huge variety of percussive sounds on the floor in various rhythmic combinations, in much the same way as a drummer does. With her Masters in Music, Karley Geneva teaches the dancer musicality, rhythm, and audience appeal. Most of the steps are performed on the balls of the feet using relaxed knees and ankles. The aim is to make clean and clear beats and be able to vary the tone of the sound that is produced. Karley will make you a musician with your feet and develope your joy of movement and expression.
Mommy and Me-
Mommy and Me (Ages 2.5-3.5) Help your child discover movement and expression while networking with other parents through a structure that blends dance, music, and imagination. Students are introduced to a class structure, age appropriate stretches, coordination exercises, and rhythm through a safe and special experience with mommy. Added benefits for mom are increased flexibility, balance, and dance appreciation. Class also includes a movement story that encourages young children to explore, experiment, and create through creative dance. (Staff includes instructor)